Chase partners: Christine Riley, Vanessa C.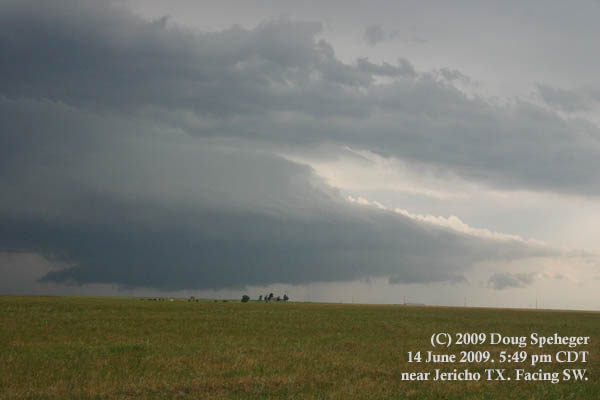 A messy day in the weather pattern to know where to chase. After a brunch at Cafe Do Brasil in OKC with some of Vanessa's friends, we stopped in west OKC to look at data and come up with a plan. There had been some morning showers and storms in the eastern Texas panhandle moving into northwest Oklahoma initially souring us to that region to chase. But for the lack of any other options that we liked better, we decided to head into the Texas panhandle to get closer to the best wind shear, and just see what would happen.
As we drove west through western Oklahoma, a few storms developed in the southeastern Texas panhandle near Floydada. Despite a tornado warning being issued for one of the storms in this area, we opted against going to this area since (a) there were a few storms in this area which would make it messy visually if we got there, (b) it's at the NW edge of what I have declared my "no chase zone" - that area of NW Texas where it seems like messy, high-precipitation storms are normal (and which point (a) seemed to agree with this today as well), and (c) it would not have been easy to get to. So we continued west.
We stopped at a rest area near Alanreed Texas planning to get data. But as we were walking into the rest area, I noticed it was very dark to the south, and what looked like an updraft base to the southwest. It hit me that we were about to get hit by a left-moving storm from that complex and that we probably did not want to be there and we busted west. Probably a good thing as the storm was producing 4.5" hail. We went west to near Jericho and stopped to watch the updraft base still to the southwest with a very low cloud base (see photo on right). If this base had been with a right-moving supercell, I would have started to get more excited. Then we went farther west to get out of the way, seeing a gustnado to our south along the way. We stopped for some other photo ops near Groom, and at the VW Bugg Ranch near Conway. While at the Bugg Ranch, we noticed another storm developing to the WSW near Canyon.
We started to move west again, then realized that the storm was moving into the Palo Duro Canyon and would not be accessible for a while, so we stopped a few miles west, watched the storm to our SW, and took advantage of other storms to the southeast for more photo ops (and here and here.) As the storm to the southwest continued to move east, we moved east back to Conway with the idea to drive south to catch it. We stopped one more time at the Bugg Ranch (and photo of the storm through one of the Bugs). But as soon as we started to drive south, the storm quickly weakened and we started back to Oklahoma.
A very nice chase for us, although Christine is still mad that we did not go back to the rest area after the storm moved through to measure how large the hail was.