Chase partner: Jennifer Palucki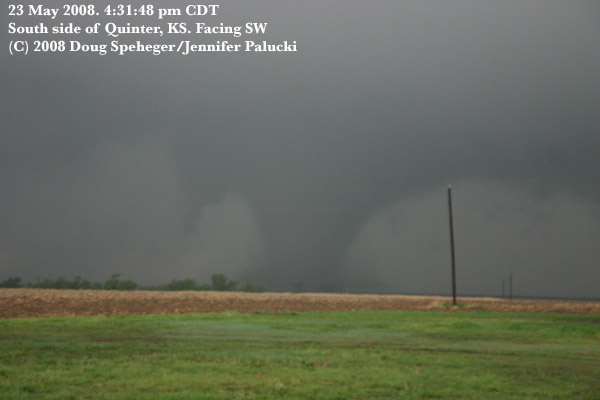 Chase Vacation: Day #2 in the field
The dryline was forecast to lay across western Kansas again today, in roughly the same area. So the longitude was the easy part of the forecast, but the latitude was the question mark, although it ended up not really mattering where in Kansas along the dryline as tornadic storms were widespread. But we initially thought we would target the same area where we were yesterday, so we started driving from Hays to Dighton. Before we got to Dighton, cumulus clouds were developing on the dryline near Dighton, so we stopped at Ness City to watch their development from farther east. Sure enough, one of the first thunderstorms developed over Dighton and started moving north-northeast. So we started to drive north from Ness City to keep up with the developing storms to the west. As the storm continued to develop, we were still about 30 miles to the east, so we went west on Kansas highway 4 to Utica, where we could see the storm continuing to organize and develop a wall cloud. Unfortunately, to keep up with it going north out of Utica, we ended up on some dirt/mud roads, and behind a caravan of three vans slowly trying to tackle these dirt roads. So progress was slow. West of Trego Center, the vans turned east, and many of the other vehicles ahead of us continued north. We turned west near Castle Rock to get closer to the storm, then north on a road to Quinter. We stopped a couple of times to determine where the updraft of the storm was located, and we could infer that it was to our northwest, but could not see it directly. But as we got onto the south side of Quinter, I rolled down my mud-caked window and saw the tornado pictured on the left about a mile or two to our southwest. The tornado continued to become larger (or closer, or both) (sorry about the blurriness, a long time-exposure was needed), but it became obvious that it would pass to our west. As it did, the tornado decreased in size and appeared to dissipate before crossing Interstate 70. We followed it north, and watched some very turbulent motion in the storm north of Quinter. But the conditions of the roads was very bad, and we did not follow the storm north.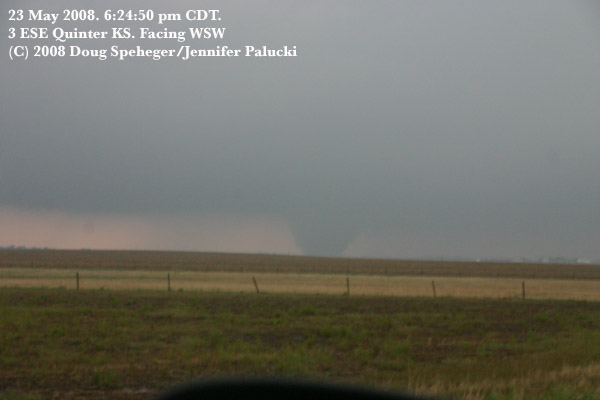 Another storm was located near Dighton moving our direction, but still a long distance away. And we did not see any other storms that we could follow with the condition of the roads. So we went east to WaKeeney to fuel up, and to get as much mud off my windows as I could. Then back west to Quinter to watch the next storm move through the area. As we approached Quinter, we could see something to the southwest and from 8 miles away. It was difficult to convince ourselves that it was a tornado and not a rain shaft, but as we got closer, it became obvious that it was the large tornado pictured on the right. This may be the widest tornado that I have personally seen. As we moved west and the storm moved north, the condensation funnel disappeared but the dust column continued to rotate, then another cone-shaped funnel developed within the debris plume (again, sorry about the long time-exposure making this shot blurry). We tried to go west from Quinter, but the road quickly became mud, so we abandoned that idea. We drove south to watch a small storm move into the area. It produced a funnel cloud, but the storm was not big enough to do much more.
At this point, the next storm in line is probably 40 or 50 miles to our south, but appears that it will move into an area farther east. So we drive east on Interstate 70 to get ahead of the storm. We initially plan to go south from either Ogallah or Ellis, but at both locations, there appears to be too much storm core to our south, so we go east to Yocemento (west of Hays) before we turn south. By this time, another storm has developed to the initial storm's south which does not leave us in good position for the north (initial) storm. But the south storm is also developing rapidly, so we drive west from Antonino and line ourselves up to watch the south storm and follow it north to Ellis. It is after sunset by the time we are in position, but have enough contrast to see two tornadoes at different times to our northwest where there still is some contrast with the twilight sky. We saw the first tornado for about a minute (904 to 905 pm) looking northwest from 9 miles south of Ellis. It was a tilted, rope-like tornado, and we were initially uncertain if this was a tornado or scud given the poor lighting. But it's evolution/motion/dissipation behaved much more like a tornado than scud. The second was more obvious when at 906 pm, we could see a translucent "cylinder" of dust/debris that extended up to cloud base within which a well-developed funnel cloud formed. This tornado appeared to dissipate at around 910 pm. We also saw two or three other "suspicious" areas extending from northwest to north-northeast, but the lighting at these angles was insufficient to determine what was occurring.
Again, we spent the night in Hays.