Chase partner: Dave Ewoldt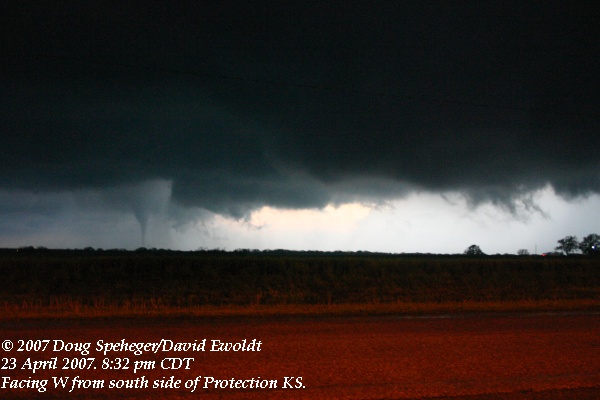 We initially were targeting the eastern Oklahoma panhandle and drove out to Elmwood, OK. We were pretty close to the initial nearby development that began to develop just to our east. So we back-tracked to the area south of Laverne, but the initial storms that were trying to develop dissipated. But storms continued to try to form in the area, and we set up camp south of Laverne, OK for an hour and a half and just waited for a storm to take hold. Finally, one storm in the northeastern Texas panhandle developed more, became severe and moved into northwest Oklahoma just to our south, and was basically moving right to us. A tornado warning was even issued, and we drove south a few miles so we could view the thunderstorm base quicker. When we first saw the storm base we saw a lot of scud that looked ominous, but we saw nothing tornadic. But there was some decent organization at times as media helicopters flew around, but still no tornadoes during our view of the storm here.
The storm seemed to always be in transition with fast development and then disorganization. As the storm moved northeast through Harper County, we did see a brief tornado to our west. Unfortunately, we were driving and a ridge to the west cut off our view soon after we saw it develop (and thus, no picture.) When we got another view a couple of minutes later, it was already gone.
There always seemed to be a lot happening and often more than one area of interest under the storm as it continued to move northeast. As the storm approached the state line, it became much more organized and developed very strong rotation and upward motion, with some scud tags developing just a few hundred feet above the ground, rising quickly, and rotating around a radius of a few hundred yards. It was some of the most impressive motion that I have seen, but never developed a condensation funnel or any typical visual cues of a tornado despite the strong very low-level rotation.
After a few minutes, this rotation disorganized. With poor road options to stay with the storm, we left the storm for a while to drive north into Kansas, then east to near Protection KS and get ahead of the storm. As the storm approached, a tornado developed southwest of town and moved north or north-northeast. While this tornado was in the occluded part of the storm, another tornado developed to its east, closer to (but still west) of town. Although the second tornado looked like it was going to develop into an organized and large tornado, the visual contact with the ground was brief and it looked like it was constantly in a "incipient" tornado stage. We could confirm it in contact with the ground a couple of times. Meanwhile, the tornado in the initial area of the storm continued, even with the second area of interest (above left, or with radar) continuing to try to organize to its east. We have heard rumors that there may have been multiple tornadoes in the western area, but we could not tell for sure from our distance, although our initial guess was that we were watching a single, 15-minute (approximately) tornado. The second area also continued to develop visible funnels and perhaps brief contact with the ground as we lost sight of the western tornado in the rain and darkness. We followed the storm north of Protection, but did not have the best visibility with the growing darkness after sunset.
After turning around and beginning the journey home, we saw that the storm was continuing to put on a lightning show (cropped image). So we stopped and photographed the lightning (cropped image) for a while. One more shot (or cropped) showing a forked cloud-air bolt.
Dave's summary and some additional video captures are on his web site.