Chase partner: David Ewoldt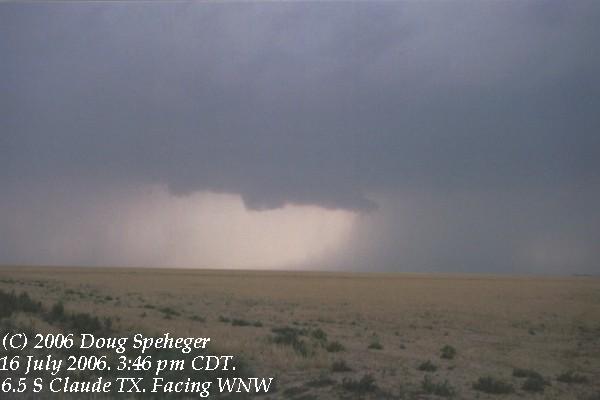 A ridiculously late start of the 2006 chase season. There haven't been many chase opportunities this year in the southern Plains, and I was on duty for most of those. So I took some days off to give myself the chance to go to where storms were since they weren't coming to me. But not much around the country in the first half of my "chase vacation." Dave and I were close to making a trip to Montana a few days earlier, but we saw potential problems with low-level moisture right before leaving and correctly passed on that long trip.
Today was not the best environment for tornadoes, but there would be thunderstorms and perhaps isolated supercells in the Texas panhandle. So Dave and I went out to the central Texas panhandle southeast of Amarillo. The best looking structure was seen when we first arrived to the storm south of Claude (photo on the right, my only storm photo of the year). The storm started moving into the roadless area southwest of US-287, so we had to go north to Claude then southeast toward Clarendon. The front-flank core caught up with us about 7 miles northwest of Clarendon and we encountered strong (estimated 60 mph) winds. By the time we got closer to Clarendon, radar was showing a good shear signature to our southwest, but the storm had no discernable structure.
We drove around to look at a couple of other storms in the area, southeast of Clarendon and north of Hollis OK. But none of these were very interesting.