Chase partner: David Dowell. Nowcasting from Dave Ewoldt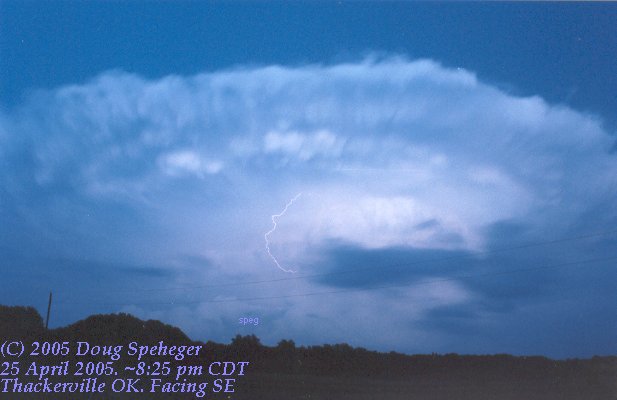 The shear was nice, but the low level moisture was the issue. In fact, I had looked at the surface map mid-morning and written off the day. But we did get some marginal moisture up into north Texas and southern Oklahoma by early-mid afternoon - enough to get me out the door when I finally looked at the data again in the mid afternoon. Storms had already developed west of the Dallas-Fort Worth metroplex, but Dave and I decided to play the northern end of the instability in southern Oklahoma.
We drove down to the Arbuckle Mountains (is this Oklahoma?) and waited for a storm to go. And we waited. And we waited. And we took photos of wildflowers. Things tried to develop nearby, but struggled. Finally one took hold just north of us, and we debated if we should play that storm (farther from the better shear), or go south for developing storms that we could not see well visually. After going back-and-forth (literally), Dave Ewoldt mentioned a storm improved dramatically in Jefferson County, so we went south to meet it. And we drove south. And we drove south.
We were hoping to meet it near Overbrook, but the real updraft of the storm always seemed to be farther south when we could tell what was happening. It got confusing because the storm split a couple of times. The right-mover started moving east-southeast, so we went southwest of Thackerville to watch it. We finally got to see the updraft area of the storm, and initially it looked healthy but disorganized. But it slowly improved enough to be entertaining. At one point there was a well-defined lowering under the updraft base, and even a conical shaped scud formation that developed on the north side of the updraft. (Yes, the foreground is a little blurry as the exposure time was long). For a few seconds, it looked smoother and could have been confused for a funnel, however there was no rotation, and only slow rising motion. We got sprinkled with pea-sized hail before the updraft feature disorganized again. As it moved away, the updraft tower looked quite healthy, but we were trapped by the Red River, and even if we went south on I-35 across the river, road options were not good east of I-35 on the Texas side. So we let it get out in front of us, and we ended up with a very good session of structure and lightning photography on the back side of the storm (see above/right). It seemed like it pulsed up better the first time when we were watching it southwest of Thackerville, and continued to organize better as it moved back into Texas and away from us. It took it long enough, but the one shot at watching the updraft base organize, and the photography at sunset pushed this chase into the success category. Now if we only had a little better moisture.