Chase partner: Kevin Scharfenberg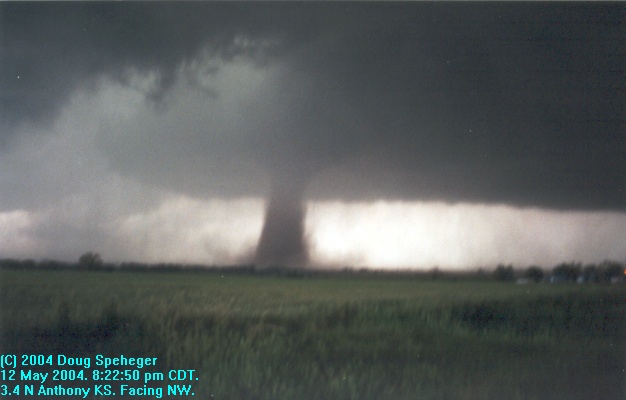 An incredible chase. Deep layer shear was very good in northwest Oklahoma and southwest Kansas. Low-level shear and low-level moisture were predicted to improve, so although it was not obvious that enough would come together for tornadoes, thunderstorms were a good bet. And there was enough chance for tornadoes that we hit the road. We made it to Alva and watched the cumulus congestus trying to form a storm. Eventually one area to our northwest did develop into a storm, and the game was on. Actually a second storm had gone up farther to the northwest that was blocked from our view early, so as we entered Kansas there were two storms from which to choose. It was a coin-flip as we could see both storms from Medicine Lodge. A tornado warning was issued for the north storm to the NW of Medicine Lodge, so we drove north from Sharon to get closer to the north storm.
As we drove north, I turned around and saw a funnel to our SSW with the south storm. I blew it off initially, but it soon became apparent that it was legit. We stopped and watched a thin tornado develop about 6 miles to our SSW. So we drove back south. As we went through Sharon again, it appeared that it may have dissipated, but after a couple of minutes we saw it again - it was a small funnel at cloud base, rotating dust at the surface, and a rotating cloud filament halfway between near the top of the dust plume. We observed this tornado which was southwest of Sharon from 7:14 pm to 7:26 pm CDT.
We had moved south of Sharon to get out of isolated golfball size hail stones that were falling, so we moved east on some back roads and KS-2 instead of US-160. When we were south of Attica, we could see three different updrafts or storms lined up east to west. We saw a funnel cloud in the storm to the northwest, then we saw a tornado develop about 6 miles to our north that was striking the edge of the community of Attica. We observed this tornado from 8:00 to 8:06 pm CDT. (And apparently the storm to our northeast also produced a tornado around this time as well, but we did not see it).
We continued east, then moved north from Anthony to get closer to the action. About 3.5 miles north of Anthony, we watched tornado #3 develop within a mile or two to our northwest (photo above/right). This is the closest I've been to a significant tornado in a long time (although it may go down as an F0 if it did not hit anything, but the rotational velocity visible with this was made it appear that this was likely a strong tornado). Here is another shot a few minutes later. The tornado visually formed at about 8:20 pm CDT, and we left it at 8:27 pm when we started to get precipitation from the hook, although the tornado was still there when we left it. I have some other blurry photos of the tornado - long exposure times were needed because it was quite dark which combined with the strong wind made photography a challenge. At least I have video.
We continued east again, but now it is getting dark. KS-2 was closed just east of Anthony with a bridge out, so we stair-stepped NE on county roads. We made a final stand 3 miles north of Freeport where we did see at least one tornado to our northwest in the lightning, likely near the town of Danville. We could see a large cone at 9:02 pm, and a tapered cone or possibly multiple-vortex tornado and still relatively large tornado at 9:08 pm. This was likely the widest tornado we saw. Only getting glimpses in the lightning, we could not tell if these tornado sightings were of the same tornado, two different tornadoes, or even how these may have related to the southeast of Harper F4 tornado. Later, we did see two sets of power flashes to the northwest (probably near Danville) while at the same location. There was a series of a couple of power flashes at 9:25 pm - it was near the action area of the storm but we could not tell for sure what the meteorological cause was (tornado or RFD). There was a big yellow power flash at 9:29 pm to the northwest. If this one was storm related, my guess it that it was probably RFD given it's position with what I was seeing in the storm, but we could not tell for sure.
We continue east again and tried to watch the area of action without getting hit by the surging rear flank downdraft. After a while, it became apparent that the area of interest was getting wrapped up farther northwest, and there was not a good play on it because of the surging RFD and the time of night.
At least four tornadoes, three that were likely strong, one in close proximity. This was my first "five-star" chase since Lamont day in 1998. And the closest I've been to a strong tornado since Moore in 2003 (although this one had better visibility).
Some of Kevin's pictures are also online.